See below for specific meeting times at each ghostbike.
Last year hundreds of cyclists gathered as a group on the first Sunday of the year to mourn for
all those who perished while riding a bike on the streets of NYC in 2005
. On this day bikers rode in from the far reaches of every borough, stopping and paying respect at every crash site.
Inspired by the
Visual Resistance ghost bike project
which uses memorial installations as reminders of tragedies that took place on otherwise anonymous street corners and as a quiet statement in support of a biker's right to safe travel, the Memorial Ride seeks to bring bikers together to honor our fellow cyclists while bringing attention to the fact that all NYC bikers travel the same unsafe streets and face the same risks every day. And not all of us make it home...
Join us this year as we ride in honor of all the cyclists who were killed on the streets of NYC in 2006. We ride together in love and respect for our friends and loved ones, our grandfathers, husbands, and brothers, our sons and daughters, our wives, sisters, cousins, neighbors, co-workers, teammates, and classmates who were all needlessly struck down. We ride together in outrage and anger, sharing their stories--those that made the papers and those that didn't-- recognizing the fact that none of these deaths had to happen.
Ride with us. Please bring flowers, love, and rage.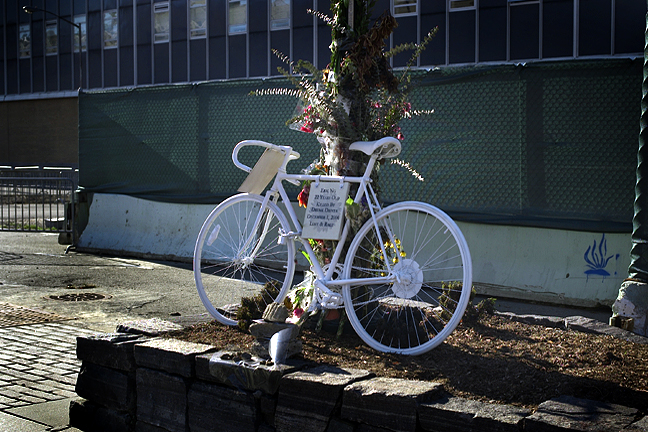 Ghost Bike memorial photos by Fred Askew
Come to one memorial or ride with us all day. Check back on 1/6 and early morning 1/7 for weather updates, cancellations, and rescheduling.
Ride Schedule
Queens/Brooklyn/Manhattan Route
09:45-Meet @ Jamaica Center stop on the E or J trains.
Group will ride to Simpson Memorial together.
10:00-Frank C. Simpson, 174th St & Linden Blvd, Queens.
11:30-Jose Mora, North Conduit & McKinley, East New York
12:00-Shamar Porter, Linden Blvd & Williams, Brownsville
12:30-Keith Powell, Ave L & 93rd, Canarsie
01:00-Donna Goodson, Rockaway Pkway & Ave. D, New Lots
02:00-Bronx Jon, South 4th Street & Roebling,Williamsburg
02:45-Derek Lake, Houston Street & LaGuardia, West Village
Bronx/ Upper Manhattan Route
09:00-Meet @ Pelham Bay Subway stop. Last stop on the 6.
Group will ride to City Island Memorial together.
10:00-Ivan Morales, City Island, Bronx
12:30-Uptown Meet-up: 145th and 8th Ave, Harlem
12:45-Jamel Lewis, 145th St & 8th Ave, Harlem
01:30-Memorial for Pedestrians killed on the streets, E 96th and Park Ave.
02:00-Memorial for anonymous woman, 66th Central Park Traverse
02:45-Derek Lake, Houston Street & LaGuardia, West Village
The two group rides will converge @ the Derek Lake memorial.
02:45-Derek Lake, Houston Street & LaGuardia, West Village
03:15-Reginald Chan, 3rd ave & 17th street
03:45-Darren Lewis, 29th & 9th ave.
04:15-Dr. Carl Henry Nacht, Greenway & 38th street
04:45-Eric Ng, Greenway @ West & Clarkson
Ride will finish @ 5:15 at the Memorial for Unnamed Cyclists
(northwest corner of Lafayette and Houston Streets)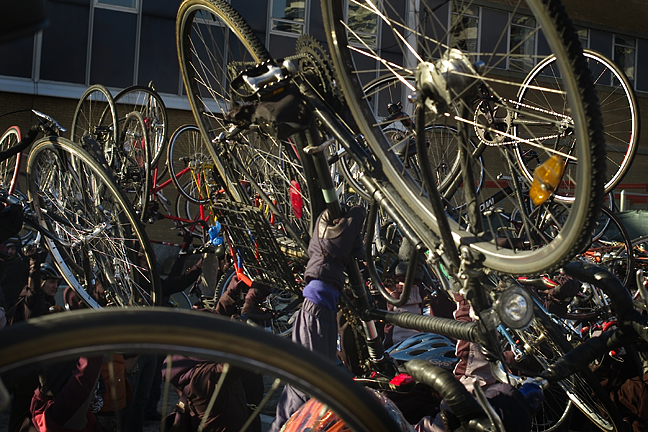 photo by Fred Askew